Bobbi Nigro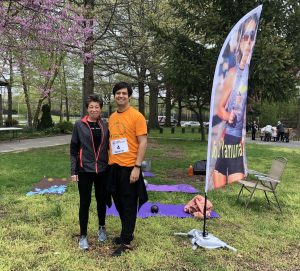 Yamuna Body Rolling
Bobbi has been a fitness professional for over 30 years, graduating with a BA in Physical Education and Recreation.  Upon graduating, she immediately began leading others on fitness adventures. And what an adventure it's been! From cycling to whitewater canoeing to triathlons, Bobbi is an athlete and Ironman Triathlete for life. As much as she lives for training and adventure, she wholeheartedly believes in balance. Practicing and teaching Yamuna Body Rolling is that perfect balance.  "Practicing YBR is what keeps me doing what I love to do and doing it pain free! That's what I want to help you to do," she says. "We work to bring balance to our lives, Yamuna Body Rolling brings balance to our bodies in a gentle, beautiful way."
In this Yamuna Ball Rolling class you will stimulate bone, creating space in joints and release muscles from origin to insertion. It is both an energizing and relaxing workout that will leave you feeling more balanced and restored.
Reflexology, Reiki, & MELT
Simply Energy NY ARCB Reflexology Certified – ITEC Massage Certified – Japanese Reiki Master Certified, MELT Method instructor training Level 1-2 Certified. EFT Level 1-2 Certified
I was inspired by my mother's healing touch as a child. Mom would massage my hands, feet and back when I was sick, nervous or frightened.  Her touch motivated me to pursue a career in holistic therapies.  I have studied Reflexology Specialties and other Modalities like REIKI, MELT AND EFT  in Europe,  the UK, Spain. In the year 2000 I moved to the United States to further my career and broaden my opportunities . By 2003 I enrolled at the New York Open Center to study Reflexology.  I have passed the national exam and am ARCB Certified.  I believe it is essential as a professional that I continue to research and develop my method. The satisfaction in knowing that through the years I have helped and still help many clients changing their health, changing their lives is immeasurable. As my clients witness the metamorphosis  that starts within, they are astonished and gratified. The power of healing touch and energy work is infinite.
Reflexology
Reflexology is an ancient natural healing art that uses the application of systematic pressure and stimulation of the reflex points on the feet that are connected via nerve pathways and meridians to every system, organ, and gland in the body. Health benefits include: stimulation of parasympathetic relaxation of the nervous system. Reflexology releases endorphins (natural pain killers)and relieves stress. It increases blood and lymph circulation and supports immune function, all of which help to restore balance and natural functioning to all the systems of the body.
Reiki
Reiki is an ancient Buddhist healing method developed in the 1920's by Mikao Usui of Kyoto. Reiki balances the Mind, the Body and the Spirit while assisting in the healing of all Physical, Emotional, Mental and Spiritual Ailments. The Reiki energy flows through the hands of the practitioner and into the person, animal or plant being treated, enhancing and accelerating the natural healing processes in the body. Reiki can help in eliminating or reducing insomnia, headaches, panic attacks, anxiety, depression, body aches and pain and much more.
MELT
The MELT Method® (MELT®) is a simple self-treatment designed to help you stay healthy, youthful, and active for a lifetime. Just 10 minutes of MELT three times a week is all you need to become a Hands-Off Bodyworker® and reduce the effects of accumulated tension and stress caused by daily living. This full-body method of self-care can be customized to your particular needs – from improving performance and decreasing the risk of repetitive stress injuries to eliminating chronic pain, regardless of what's causing your pain in the first place.
Fabiana Donati